I try all kinds of lampwork techniques--guess I am fundamentally a lampwork dilettante rather than a craft master of a single approach. Today I am back to my main love, though--organics. I started withe a purple base and layered twisties in various reactive colors over it. The result was an
earring set that reminds me of the Southwestern landscape
.
Oh, you want to see it? Here you go!
Purple stayed on my mind when I was at the torch.
Here's a fan pull that can also work as a finial
-- very clever design for which I can take no credit at all. This violet swirl laced with veins of silvered ivory stringer would look lovely in any room--a piece of functional, practical, unique art.
How do fan pulls work? You begin with a base wound around a threaded socket: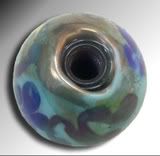 .Then you add a brass fan pull adapter: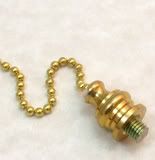 That means the fan pull can act as a lamp finial, too.
Finally, put it all together (if you sing "Bibbidibobbidiboo," please do so quietly so as not to disturb your neighbours or give anyone an ear-worm) and you have:
A fan pull!
This one is on ETSY, too.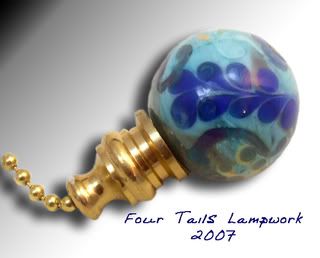 And as always, thanks for looking!